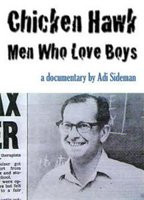 PhilaMOCA hosts a screening of CHICKENHAWK with director Adi Sideman in attendance plus additional thematically appropriate short films.

On Friday, September 21, Cinedelphia.com and Film Threat present a screening of the notorious 1994 NAMBLA documentary CHICKENHAWK – MEN WHO LOVE BOYS with director Adi Sideman in attendance. The screening will be followed by a selection of thematically appropriate short films (all Philadelphia Premieres) curated by the evening's host, local filmmaker Matt Garrett.
CHICKENHAWK premiered at the first annual New York Underground Film Festival (co-founded by director Todd Phillips) in 1994 and was quickly banned in several cities nationwide. The film follows several members of the North American Man/Boy Love Association as they defend their interests and campaign to be accepted by a greater cultural movement; NAMBLA supporter Allen Ginsberg briefly appears. CHICKENHAWK's only home video release was on VHS back in the late 90s courtesy of event co-sponsor Film Threat. Since its controversial release, the film has gone on to screen for psychology, sociology, and criminology departments throughout the country and has also been screened for the FBI.
"CHICKENHAWK takes an unflinching and uncomfortable look at a subject most of us would rather not contemplate," says Film Threat owner Mark Bell. "It's a disturbing and significant documentary film, one that has been used to inform and educate in ways only the most daring of documentaries can."
"The short films featured in this program offer decidedly different takes on some of the themes presented in Adi Sideman's CHICKENHAWK," says the evening's host/shorts curator Matt Garrett. "What's always interested me about CHICKENHAWK, and other films that broach similar territory, is they often offer shades of grey to a seemingly black & white issue, a personal favorite in this regard is Todd Field's LITTLE CHILDREN. Make no mistake, the shorts included are graphic, upsetting and very confrontational, but not without an undeniable sense of artistry and purpose.
Shorts include:
TO MY MOTHER AND FATHER
9 minutes/2010
Writer/Director: Can Evrenol
Upon finding an ominous mask, a young boy hides in his parents' bedroom closet with the intent of giving them a good old-fashioned scare. What he sees and the horrors that follow have had festival audiences across the globe squirming in their seats.
ELECTRIC FENCE
19 minutes/2008
Writer/Director: Matt O'Mahoney
Following a mishap involving an epileptic prostitute, a quiet and well-meaning man awakens from an experimental surgery with horrifying new sexual urges.
More short selections to be announced in the coming weeks.
Doors at 7:30, Film at 8:00, $7