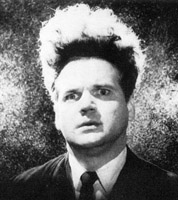 On Friday, July 13, the Philadelphia Mausoleum of Contemporary Art will host ERASERHOOD FOREVER, an art show/celebration held in honor of the building's new Eraserhead mural (south-side exterior).  The celebration will feature live performances from Full Blown Cherry and Void Vision with Lynch-themed sketch comedy from Secret Pants and Camp Woods and Twin Peaks-themed burlesque from NYC's Francine "The Lucid Dream".  Read on…
The neighborhood north of Center City that houses PhilaMOCA is often referred to by a variety of names:  Callowhill, the Loft District, West Poplar.  But for many Philadelphians it will always be known as the Eraserhood, an affectionate nod to the area's presence in Eraserhead as well as the greater impact that the environment had on the career of director David Lynch.  Disturbing yet humorous, dangerous yet comforting…these are the contradictory words often associated with Lynch's work and are easily applied to PhilaMOCA as well.
A David Lynch-themed art show reception will be held from 6-9pm followed by live performances from:
FULL BLOWN CHERRY – Philly-based rockabilly trio
VOID VISION – Haunting, atmospheric one-woman electronica from Philly
Live Lynch-themed sketch comedy from local group favorites SECRET PANTS and CAMP WOODS
plus Lynch-themed burlesque from NYC's famed FRANCINE "THE LUCID DREAM"  (aka "The Blue Rose of Burlesque")
and it all kicks off with a live reading of an original essay on Lynch/Eraserhood from local favorite Juliet Hope Wayne.
Art reception at 6pm; performances start at 8:30pm.
$10, All-ages.
Refreshments courtesy of Narragansett Beer Co. and Red Bull.
Bios:
FULL BLOWN CHERRY : The rockabilly trio Full Blown Cherry began as a surf band. They started dabbling in rockabilly as a side project, and now the band has grown into one of the most exciting and strongest acts on the Philadelphia music scene. With their rootsy sound, reminiscent of early Memphis, Sun Recording's, the band captures that moment in time when rock n' roll was pure and fresh.
http://www.last.fm/music/Full+Blown+Cherry
VOID VISION : Shari Vari is the woman behind the Philadelphia-based analog electronic project, Void Vision. In the past, the band functioned as a duo, consisting of Shari and Hayden Payne, who later left after the recording of their first 7" vinyl 'In 20 Years' on Blind Prophet Records to pursue his own project. Since then, she has continued recording and performing solo as Void Vision and is currently working on a full length album. The music explores many realms, experimenting with dark dreamy synthscapes and melancholy, yet dance-oriented sensibilities. But, beyond all else, the keen sense of song structure and powerful, yet ethereal vocals, are really what serve to set Void Vision apart from the rest.
http://voidvision.bandcamp.com
SECRET PANTS : Secret Pants is the longest-running consistently active sketch comedy group in Philadelphia.  Since 2004, they have performed regularly in and around Philadelphia and all over the east coast (also Chicago– one time). As a marginally successful Internet sketch group, they have produced over one-hundred online videos and have been featured on Comedy Central, College Humor, FuseTV, Digg, and other sites that steal videos and post them as their own.
http://secretpants.net
CAMP WOODS : Camp Woods is a sketch comedy troupe from Philadelphia, PA.  The group blends sharp absurdism and energetic performances with homemade props, sets, puppets, and costumes to create a memorably weird and funny live experience.  They will present a 20 minute set of scripted sketch comedy inspired by and set in the world of David Lynch.  It promises to bring all of the attributes Lynch himself gave to Philadelphia and that permeate his films: twisted, violent, decadent, decaying, and darkly hilarious.
http://campwoods.net
FRANCINE "THE LUCID DREAM" : Francine "The Lucid Dream" is a singer, burlesque performer and producer of The Pink Room: David Lynch Burlesque, Francine's Pink Room and Franny's FLICKS.  Francine started her career on the stage of the Slipper Room and has since taken NYC by storm performing at numerous venues including The Highline Ballroom, (le) Poisson Rouge & Duane Park. She has also performed at festivals around the country: The Dallas Burlesque Festival, The Windy City Burlesque Festival, the Great Boston Burlesque Expo & the New York Burlesque Festival. Most recently, Francine portrayed a 1920s burlesque performer in the currently Untitled James Gray Project starring Joaquin Phoenix, Marion Cotillard, and Jeremy Renner.
http://francineburlesque.com