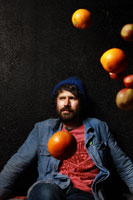 On Sunday, August 5, Gruff Rhys of Super Furry Animals will be performing a special set at PhilaMOCA as part of his second investigative concert tour of the Americas.
The first tour, which saw Gruff winding his way around South America in a search for his long lost, guitar-playing, poncho-wearing uncle, Rene Griffiths, was documented by Dylan Goch in their 2010 feature film Separado! In August 2012 Gruff – known around the world for his work with Super Furry Animals and Neon Neon, as well as his collaborations with Gorillaz, Dangermouse, Sparklehorse and Simian Mobile Disco –  will be seeking out the final resting place of his relative John Evans, who left Wales in 1792 on a quest to find a mythical tribe of Welsh speaking Native Americans. Gruff will follow the path of John Evans using film, the written word, photo-story, social media and song to create an investigative road movie and album.
John Evans – a 22-year old farmhand from the mountains of Snowdonia, Wales – responded to a plea for a brave soul to ascertain if there was indeed a tribe of Welsh-speaking Native Americans still walking the Great Plains, descendants of Prince Madog (widely believed to have discovered America in 1170). During the course of an extraordinary adventure, Evans wrestled the largest river reptiles ever seen in the Mississippi, hunted Bison with the Omaha tribe, defected to the Spanish in St Louis, discovered imaginary volcanoes in Missouri, annexed North Dakota from the British, and created the map that guided Lewis and Clarke on their legendary expedition. His adventure was cut short when he died broke and out of his mind at 29 in New Orleans.
Gruff's investigative concert tour will begin at Yale's Beineke Library where John Evans' famous map is said to reside. From there Rhys will follow in his relative's footsteps as he investigates Evans' significance in American history, the true circumstances of his death and the secret location of his burial. Simultaneously he explores how the myths that surround cultural identity are formed and distorted, and how well meaning adventure and beliefs can result in painful colonialism, misadventure and tragedy.
You can join Gruff in securing John Evans rightful place in American history! Gruff urges anyone with clues regarding Evans's unknown burial place; imaginary volcanos; wandering tribes of Welsh Speakers, or lingering river reptiles to come to the shows, where your help with his investigations will be appreciated and featured in the movie.
Join the Investigative Concert Tour!
Presented by Rockaphilly.com, All ages, $10 advance, $12 at the door.
Advance tickets available here.