The rumors are true!  The Philadelphia Mausoleum of Contemporary Art naturally presents the Mausoleum Horror Convention, a one-day celebration of the wild and weird presented by Cinedelphia.com, on Saturday, June 16 (preceded on Friday by the Mausoleum Art Show of Horrors).  Here's an overview of the day's events:
11 AM – 6 PM : Vendors will be setup throughout the day; daytime entertainment will include short films, a trivia contest, a drawing workshop, and more!
6:30 PM : Funerary violin performance/presentation from Monique Canniere and Mano Divina (of the Divine Hand Ensemble)
8:00 PM : Screw Smart (Philly-based comedic sex education performance group) live performance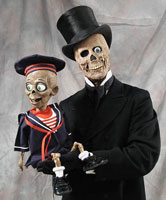 8:30 PM : Mr. Deadguy (the un-dead puppeteer/performer) hosts a horror-themed burlesque show produced by Miss Rose and featuring Miss Rose, Anja Keister, Iris Explosion, and Dangrrr Doll
10:00 PM : Philadelphia Premiere of a highly-anticipated horror film (TBA)
Free refreshments courtesy of Narragansett Beer Co. and Red Bull
General admission: $12; Movie-only admission: $7; All ages; Facebook Event Page.
Confirmed vendors:
Coroner's Creations (silkscreens/paintings/illustrations)
Curious Goods (custom toys and wares)
Diabolik DVD (domestic/import DVDs and Blu-rays)
Haunt Love (prints and more)
House of Mysterious Secrets (horror merchandise of all sorts)
Merchants of Menace (horror keychains/magnets)
RTG Movies and More (posters/shirts/figures)
Satanic Pandemonium (zines)
VHSPS (VHS Preservation Society)