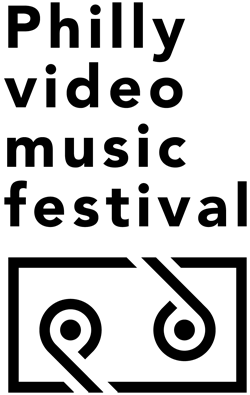 We're excited to announce the programming lineup for the first annual Philly Video Music Festival, running Thursday, February 26 – Sunday, March 1, 2015 at PhilaMOCA.
THURSDAY, FEBRUARY 26
7:30 PM – PHILADELPHIA MUSIC VIDEO SHOWCASE
FRIDAY, FEBRUARY 27
7:30 PM – THE HISTORY OF MUSIC VIDEO – Presentation
10:00 PM – NAME THAT VIDEO! – Game Show
SATURDAY, FEBRUARY 28
2:00 PM – EXTENDED PLAY THEATER – Longform 80s videos
6:00 PM – INCIDENT AT CHANNEL Q (1986) + BUFFALO JUGGALOS – Double Feature
10:00 PM – THEY MIGHT BE WEIRD – They Might Be Giants/Weird Al burlesque
SUNDAY, MARCH 1
4:30 PM – LIFE ON THE V: THE STORY OF V66 – Philly Premiere
7:30 PM – TRIBUTE TO 120 MINUTES – Presentation
EXPAND FOR FULL PROGRAM DETAILS…

THURSDAY, FEBRUARY 26, 7:30 PM
PHILADELPHIA MUSIC VIDEO SHOWCASE
A feature-length showcase of contemporary Philly music videos from local directors spanning all genres, styles, and production levels, from professional to amateur.  All videos are handpicked by a jury that includes Robert Drake (WXPN), Emily Guendelsberger (City Paper), Quang Tran (The Deli Philadelphia), and John Vettese (The Key).  All judges will be in attendance to present and discuss their selections.  Plus special guests!
Doors at 7:00, Program at 7:30, $10 admission
FRIDAY, FEBRUARY 27, 7:30 PM
THE HISTORY OF MUSIC VIDEO, PART ONE: From the Dawn of Time Until 1993 – TALK + Q&A
Stephen Pitalo – VJ, music video historian & expert on THE GOLDEN AGE OF MUSIC VIDEO (1976-1993) — gives this multimedia presentation chronicling the evolution of the music video form, from the early jazz films, movie musicals and early television performances, up through 70s experimentation and the 80s MTV heyday, concluding with the demise of hair metal & the rise of the Seattle sound in the early 90s. With information gathered from more than 100 interviews with music video directors and artists, Pitalo explains key events, aided by photos, videos and interview segments, spotlighting that era called THE GOLDEN AGE OF MUSIC VIDEO, when pioneering and revolutionary filmmakers were creating the iconic music video images we still talk about today.
Doors at 7:00, Program at 7:30, $10 admission
FRIDAY, FEBRUARY 27, 10:00 PM
NAME THAT VIDEO! A Throwback Game Show For The Music Video Obsessed
Stephen Pitalo – VJ, music video historian, and champion of VH1's Name that Video show – will host this version of the VH1 game show, where contestants compete by answering questions about their favorite music videos, until they must complete the lightning round to win an amazing grand prize package worth well over the price of admission! Get ready, music video nerds — you could be a big winner! E-mail curation@philamoca.org for your chance to qualify as a contestant!
Doors at 9:30, Program at 10:00, Free admission for 7:30 program attendees, $10 otherwise
SATURDAY, FEBRUARY 28, 2:00 PM
EXTENDED PLAY THEATER: Longform Videos of the 1980s
One phenomenon to emerge in the Golden Age of Music Video was "the longform video." An artist would attempt a video album that connects the songs through a video narrative, resulting in an extended length video project. Noted director Julien Temple (The Filth and the Fury, Absolute Beginners) helmed three of these, all of which are presented tonight:
David Bowie's "Jazzin' for Blue Jean" (1984, 20 minutes)
A rocker & a loser vie for the same girl in a rock club, providing the backdrop for an extended version of Bowie's hit "Blue Jean".
ABC's "Mantrap" (1983, 55 Minutes)
British pop group ABC, using songs from their album The Lexicon of Love, star in a spy-caper where their unsuspecting lead singer, Martin Fry, is duped into fronting the band because of his striking resemblance to a foreign secret agent.
Mick Jagger's "Running Out of Luck" (1987, 80 minutes)
Jagger spotlights songs from his first solo album She's The Boss as his character's trip to Brazil results in his kidnapping and delivery to the oversexed owner of a banana plantation.
Doors at 2:00, Program at 2:30, $10 admission
SATURDAY, FEBRUARY 28, 6:00 PM
METAL MOVIE MADNESS: Incident at Channel Q (1986, 85 minutes)
+ Buffalo Juggalos (2014, 30 minutes)
Headbangers Ball meets Pump Up The Volume in this silly B-movie that features some great heavy metal videos. A quiet suburban neighborhood declares war on a renegade VJ and his metal music program on local video station Channel Q, triggering an all-out war between the "metalheads" and the "straights." Featuring music videos by Bon Jovi, Iron Maiden, Kiss, Deep Purple, Motley Crue, Scorpions, Rainbow, and an amazing video for Golden Earring's "Twilight Zone."
Trailer: https://www.youtube.com/watch?v=EqJF1OyZaAk
PLUS screening prior to INCIDENT will be the Philly Premiere of the 30 minute short BUFFALO JUGGALOS.  Trailer: http://buffalojuggalosfilm.tumblr.com/
Doors at 5:30, Movie at 6:00, $10 admission
SATURDAY, FEBRUARY 28, 10:00 PM
THEY MIGHT BE WEIRD: A Burlesque Tribute to Weird Al and They Might Be Giants
Miss Rose's Sexploitation Follies' founder and producer Liberty Rose along with Broad St. Burlesque bring you an event full of beautifully bizarre and frighteningly funny burlesque based on the music of two pioneers of the music video format: Weird Al and They Might Be Giants! Bringing in talent from New York and Philadelphia, They Might Be Weird promises to be an evening of unforgettable and out of control striptease!
Liberty Rose has a currated an evening that will make you exclaim "NOW, That's What I Call Polka!" and leave the Birdhouse in your Soul glowing! Dottie Riot is ready and raring to get weird! Let Hattie Harlowe get real, White and Nerdy with you! See Burlesque Explosion Büm Büm Kapau as she cuts straight to your funny bone Like a Surgeon! Margot Starlux shows you the dark side of Lancaster with an Amish Paradise! Spy Brettzo as he slinks around the stage collecting secrets and storing them in secret places! And it wouldn't be a Broad St. Burlesque event without a big ol' group number from the entire cast of the show! Hosted by a super surprise nerdy guest!
Plus POST-BURLESQUE VIDEO DANCE PARTY!
Festival curator Stephen Pitalo switches gears from music video historian & game show host to VJ, mining his collection of more than 10,000 music videos that span the last 30 years to create RETRO VIDEO DANCE PARTY — and he takes requests!
Doors at 9, Show at 10, $14 advance, $17 door
SUNDAY, MARCH 1, 4:30 PM
LIFE ON THE V: THE STORY OF V66 (Philly Premiere)
In 1985, during the height of the music video craze, a free music video UHF-TV channel appeared in the Boston market, only to disappear from the airwaves after 18 months. Nearly 30 years later, the fans remain and memories of this channel have formed an important place in 80s nostalgia. Life On The V: The Story Of V66 is the story of that channel, V66.
Trailer: https://www.youtube.com/watch?v=WWI6rLqxpcw
Doors at 4:00, Movie at 4:30, $10 admission
SUNDAY, MARCH 1, 7:30 PM
BACKWARDS WALK INTO THE FUTURE: A Tribute to 120 Minutes
Join host Chris Cummins (What's Dave Kendall Wearing?, Philebrity) as he takes you into the retro future of alternative music with an evening celebrating MTV's legendary music series 120 Minutes. Expect special guests, a Guess the 120 Minutes Video Contest, classic clips and a detailed history of the show that taught us all to never mind the mainstream.
PLUS a special Rock Video Monthly pre-show:
For people who didn't have MTV in the 90s, there was Rock Video Monthly. The VHS-by-mail subscription service arrived every month during the post-Nirvana era highlighting the music videos of the moment: the hits as well as the head-scratchers.  The Key's John Vettese and Maureen Walsh will dig into their collection to showcase enduring hits and forgotten oddities alike.
Doors at 7:00, Program at 7:30, $10 admission
Presenter/Co-Curator Stephen Pitalo bio:
Stephen Pitalo once won a Toyota 4×4 on VH1's "Name That Video" game show in 2001, which started him down the path to becoming the world's leading music video historian. His blog The Golden Age of Music Video includes amazing tales & inside stories from the era, as told by over 100 video directors and artists about the iconic videos we know and love. He is currently writing for a book about the evolution of music video, curates VEVO's Throwback Thursday playlist, serves as music correspondent for NTN24, and is currently developing a television show on classic music videos. He hosts and VJ's live events featuring music videos from every genre, and also delivers his talk, THE HISTORY OF MUSIC VIDEO, PART ONE, at venues across the country.