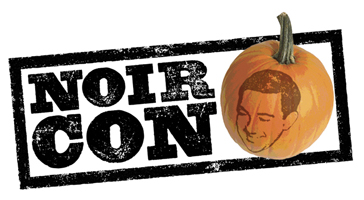 Here's the schedule for the Noircon 2014 event that PhilaMOCA will be hosting on Thursday, October 30 at 7:30 PM:
Edward G. Pettit (Master of Ceremonies) is the Philly Poe Guy. He's also a writer, part-time professor and full-time literary provocateur. In 2012, Pettit was the Charles Dickens Ambassador for the Free Library of Philadelphia's Dickens Bicentenary celebration. He is currently working on a book about Poe's time in Philadelphia. www.edwardpettit.com
Pin-up Photographs
Frank De Blase is an award-winning writer, photographer, ex-rockabilly crooner, social contrarian, and all-around troublemaker who always leaves room for dessert. He is also the author of Pine Box for a Pin-Up, Busted Valentines and Other Dark Delights, and A Cougar's Kiss (forthcoming), all published by Down and Out Books.
www.frankdeblase.com
Dr. Seuss' Noir
Kelsey Wagner's current art project involves is a Noir-styled parody of Dr. Seuss' characters. Her work consists mostly of a graphic novel style to very rendered illustrations in multiple mediums of traditional and digital. Kelsey's mission as an artist is to follow speculations and execute the task at hand efficiently and creatively to generate engaging images and concepts visually through illustration. A graduate of Moore College of Art & Design in Philadelphia, PA, she received the Visionary Women Award from Moore College from 2009–2014.
Cheerleaders, Rodeo Clowns, Wrestlers
 and Sideshow Stars: The Deadly Serious World of B Noir   [45 minutes]
Megan Abbott is the Edgar® award-winning author of seven novels, including Dare Me, The End of Everything and her latest, The Fever, which was chosen as one of the Best Books of the Summer by the New York Times, People, Entertainment Weekly, Amazon and the LA Times. She is also the author of The Street Was Mine, a study of hardboiled fiction and film noir. She has been nominated for awards including the Shirley Jackson Prize, the LA Times Book Prize, and the Hammett Prize. www.meganabbott.com
Christa Faust is the author of several novels, including Choke Hold, Hoodtown, and Money Shot, which was nominated for an Edgar®, Anthony, and Barry award, and won a Spinetingler award. She has worked in the Times Square peep booths, as a professional dominatrix, and in the adult film industry both behind and in front of the cameras. She lives and writes in Los Angeles. www.christafaust.net
Wallace Stroby is the author of seven novels, the most recent of which is Shoot the Woman First, the third in his series about professional thief Crissa Stone. The fourth in the series, The Devil's Share, will be published by St. Martin's Press in May. A former journalist, he was an editor at the Newark (N.J.) Star-Ledger, Tony Soprano's hometown paper, for thirteen years. A Long Branch, N.J., native, he's a lifelong resident of the Jersey Shore. www.wallacestroby.com
Dennis Tafoya is the author of the critically-acclaimed novels The Poor Boy's Game, Dope Thief, and The Wolves of Fairmount Park, and numerous short stories appearing in collections such as Philadelphia Noir from Akashic Books. His work has been nominated for two Spinetingler awards and his novels have been optioned for film.
www.dennistafoya.com
Veering Off the Highway:
 How Springsteen's Music Shapes Crime Fiction [45 minutes]
Jamez Chang is a hip hop artist, poet and editor whose work has appeared or is forthcoming in PANK, Underground Voices, Metazen, FRiGG, and Thrush Poetry Journal. He is currently Editor of Flash Fiction at Counterexample Poetics. www.jamezchang.wordpress.com
Joe Clifford is acquisitions editor for Gutter Books, managing editor of The Flash Fiction Offensive, and producer of Lip Service West, a "gritty, real, raw" reading series in Oakland, CA. Joe is the author of four books (Choice Cuts, Junkie Love, Wake the Undertaker, andLamentation), as well as editor of the forthcoming Trouble in the Heartland: Crime Stories Based on the Songs of Bruce Springsteen.
Jen Conley's stories have appeared in Thuglit, Needle, Beat to a Pulp, Out of the Gutter, Plots with Guns, All Due Respect, and many others. An editor at Shotgun Honey, her stories have been nominated for a Best of the Web Spinetingler Award and shortlisted for Best American Mystery Stories. She lives in Brick, New Jersey, where she has been finishing up a crime novel. www.jen-conley.blogspot.com
Mark Krajnak is a photographer from Allentown, New Jersey. His work has appeared on book and music album covers, New Jersey Life magazine, Fox News, Times of Trenton, as part of the off-Broadway play Two Detectives, and on numerous corporate, photojournalism and entertainment websites. He has traveled to nineteen different countries but considers New Jersey the place to be. www.jerseystylephotography.zenfolio.com
Paul Charles has been lucky enough to be agent for a wide range of quality music acts including: Jackson Browne, Crosby, Stills & Nash, Ray Davies, The Blue Nile, Christy Moore, Don McLean, Elvis Costello, John Lee Hooker, Sonny Terry and Brownie McGhee, Rory Gallagher, Nick Lowe, Ry Cooder, Robert Plant, Planxty, Tom Waits, Van Morrison, The Waterboys and The Undertones. He also programmed the acoustic stage at Glastonbury Festival for the last 17 years.  Hailing from Northern Ireland this is the beginning of a short US tour he's doing for the publication of the first book in a new Belfast-based series, DOWN ON CYPRUS AVENUE, being published in the US by Dufour.  An earlier series he wrote from the Do Not Press, featuring Belfast Inspector Christy Kennedy and his assistant ann rea (always in lowercase).
Independent Noir Cinema Today
Swinger's Anonymous [25 minutes]  (30 minutes)
Jonathan Woods is the author of the novel A Death in Mexico, and the short story collections Bad Juju & Other Tales of Madness and Mayhem and, most recently, A Phone Call from Hell and Other Tales of the Damned. His new road- trip crime novel Kiss the Devil Good Night is forthcoming in 2015. Effective January 1, 2015 Woods, with his business partner Shirrel Rhoades, will be acquiring New Pulp Press, home of edgy, transgressive noir. Woods will act as Editorial Director.
www.southernnoir.com
Adaptation of Jean-Patrick Manchette's Works [15 minutes]
Howard A. Rodman is the Vice President of the Writers Guild of America West; professor and former chair of the writing division at the USC School of Cinematic Arts; and an artistic director of the Sundance Institute Screenwriting Labs. He is also the author of the novelDestiny Express. His screenplays include Savage Grace, August, Joe Gould's Secret, and adaptations of Jim Thompson and David Goodis for Showtime's Fallen Angels anthology series.
Independent Noir Cinema Today
Execution Style [9 minutes and 39 seconds]  (15 minutes)
Duane Swierczynski is the author of several crime thrillers, including the Shamus Award-winning Fun and Games, the first in the Charlie Hardie series, as well as the Edgar®-nominated and Anthony Award-winning Expiration Date. He has written many comic books, including Judge Dredd, Bloodshot, X, and others. Duane has also collaborated with CSI creator Anthony E. Zuiker on a series of bestselling "digi-novels" which include Level 26: Dark Origins, Dark Prophecy and Dark Revelations.
www.secretdead.blogspot.com
The Artist and the the Psychopath [45 minutes]
Sigrid Sarda constructs life-size human figures made of wax incorporating human remains in the tradition of the doll as a magical object. www.sigridsarda.blogspot.com