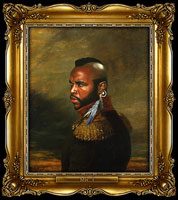 Jibbart Jabbart: A Mr. T-Themed Art Show and Experience
An exhibition of artwork inspired by Mr. T at PhilaMOCA
About the Event: If you grew up in the 1980s, Mr. T was a ubiquitous presence in your childhood.  Whether you marveled at his driving skills and propensity to drink drugged milk on the A-Team, his menacing gaze as he stood toe-to-toe with Philly's own Rocky Balboa, or peddled everything from lunchboxes to action figures to cereal with his face on it, Mr. T had an undeniable impact on our everyday lives.  On Saturday, December 7 we're celebrating the Man with the Gold in a themed art show and entertainment experience!
Submissions:  All two-dimensional mediums welcome (no hazardous materials), no videos, sculptures or installations.  Please send digital files or photos of submissions to curator Ben Leach at curation@philamoca.org.  Links are preferred for six or more entries. Remember, not all submissions will be accepted.
There will be a $20 participation fee per selected piece of artwork. 100% of the proceeds from sold artwork will go to the artist.
Deadline for submissions is December 2nd, 2013.
Accepted Art Delivery: Drop-offs of accepted art can be made at PhilaMOCA (531 N. 12th Street) on Wednesday, December 4th from Noon – 6:00 PM (or by request).  Work must be ready to hang and prepared for installation.  For safety purposes, all 2-D will preferably be framed.  Accepted pieces that will be delivered to PhilaMOCA via postal means must include return postage and must arrive by December 4th.
For questions or concerns, contact Ben Leach: curation@philamoca.org