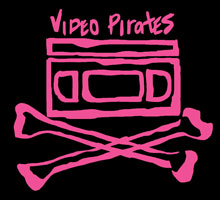 Eric Bresler, site editor of Cinedelphia.com and Director/Curator of PhilaMOCA, presents the feature-length debut of his comedic found footage project Video Pirates at the Philadelphia Mausoleum of Contemporary Art on Friday, November 9 at 8:00 PM.
Video Pirates takes short clips from thousands of instructional/educational/oddball VHS tapes and edits them together into thematic pieces.  VP debuted in July with the 10 minute short HORRORS (available here), which opened for a screening of POSSESSION at the International House.  VIDEO PIRATES: SPARKS, an hour-long history of the titular band, recently screened as part of the PhilaMOCA SPARKStacular on October 6.
November 9 will mark VP's first live feature-length showcase of VHS treasures and oddities.  Mind-melting highlights of the event will include:
• A history of the Beanie Babies phenomenon
• Strange dog training videos
• An over-the-top faith-based exploration into the dangers of internet pornography
• A rare video history of Nasubi, an aspiring Japanese comedian who was forced to live in a room with no supplies for a year and a half.
Also expect a fair amount of wrestling, 90s music, Morrissey, and embarrassing clips of Eric's past appearances on television.
Opening for Video Pirates will be the NYC-based purveyors of bad cinema WE HATE MOVIES who will engage in some live movie-bashing over clips from some of the worst films they've encountered.
A Captain Power demo will be setup for attendees pre- and post-show; free refreshments will be available courtesy of Narragansett Beer Co.
Doors at 7:30, Show at 8:00.
All ages, $7 admission.
11/9 event trailers: