It's exactly like it sounds:  on Sunday, July 1 at 9:00 pm, the Philadelphia chapter of the internationally celebrated Naked Girls Reading event will debut at the Philadelphia Mausoleum of Contemporary Art.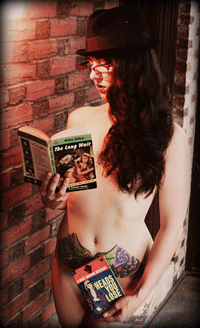 The first event is Pretty in Pulp, an evening of pulp fiction favorites as read by Philadelphia's finest lewd and literate ladies as well as a special guest from New York City, the NGR ring leader for her region, Nastie Canasta!  Gracing the stage from the City of Brotherly Love we've got Kiki Berlin, Miss Mary Wanna, Ruby Solitaire, and last but not least, Miss Rose!
Pretty in Pulp is the inaugural installment of Naked Girls Reading in the fair city of Philadelphia, brought to you by that flower you'd love to pluck, Miss Rose.  Held on the first Sunday of every other month at PhilaMoCA, the event will feature a rotating cast of bare beauties reading thematically appropriate excerpts in the buff.
Storytime just got sexy.
$15 admission, $25 for couples. 18+.
About:
Naked Girls Reading began in Chicago in March 0f 2009 as the idea of international showgirl Michelle L'amour and Franky Vivid.  The idea rolled around in their heads for a few years in different formats, but with the opening of Studio L'amour in 2008 it materialized as the perfect intimate live event.  After the very first event it was obvious to all in attendance that something big had just happened, something spiritual.  Immediately, the press took hold and emails started coming in from cities all over the country from ladies interested in starting their own franchise.
Naked Girls Reading sessions are currently held in over a dozen cities domestically with several international chapters including London and Toronto.
http://nakedgirlsreading.com
Contact:
Miss Rose: MissRoseBurlesque@gmail.com