PhilaMOCA will be hosting two comic book-themed after parties for that big convention that's held in Chinatown just a few blocks south of us…
On Friday, June 1, the Philadelphia Premiere of Wonder Women!: The Untold Story of American Superheroines (SXSW, ActionFest) followed by Comic Strip!, a comic book/nerd-themed burlesque show produced by Philadelphia's Miss Rose.
On Saturday, June 2, the Philadelphia Premiere of With Great Power: The Stan Lee Story (Slamdance) with director Will Hess in attendance followed by live performances from Drunk Monk (Baltimore costumed surf rock), an0va (Philly chiptune), and Chipocrite (Philly chiptune).
Refreshments courtesy of Red Bull and Narragansett Beer Co.
Vixens of Virtue, Vixens of Vice the breakout all-female hit web series now direct-to-DVD will be on-site shooting scenes for their upcoming DVD release Vixens of Virtue, Vixens of Vice Season 3: Homecoming during both evenings.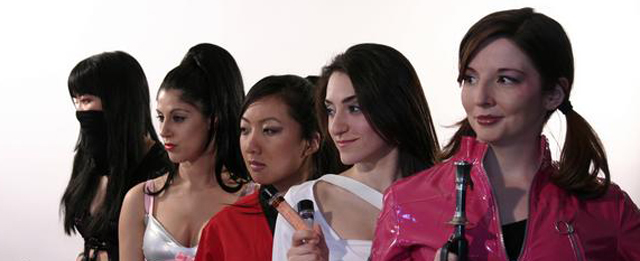 Friday, June 1
Doors at 6:00 pm; $7 movie, $10 burlesque, $15 for both (no advance ticketing)
7:00 pm : WONDER WOMEN!: THE UNTOLD STORY OF AMERICAN SUPERHEROINES : WONDER WOMEN! traces the fascinating evolution and legacy of Wonder Woman.  From the birth of the comic book superheroine in the 1940s to the blockbusters of today, WONDER WOMEN! looks at how popular representations of powerful women often reflect society's anxieties about women's liberation.  WONDER WOMEN! goes behind the scenes with Lynda Carter, Lindsay Wagner, comic writers and artists, and real life superheroines such as Gloria Steinem, Shelby Knox and others who offer an enlightening and entertaining counterpoint to the male dominated superhero genre.
Screening is presented by the Awesome Fest and Cinedelphia.com.
9:00 pm : Comic Strip! burlesque show featuring the talents of Miss Rose, Oscar Wildchilde, Stella Chuu, and Magdalena Fox; hosted by Nelson Lugo.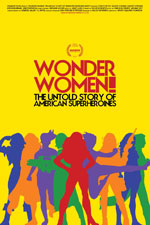 Saturday, June 2
Doors at 6:00 pm; $7 movie, $7 bands, $10 for both (no advance ticketing)
7:00 pm : WITH GREAT POWER: THE STAN LEE STORY : WITH GREAT POWER explores the vivid life and imagination of Stan Lee, from the early days of his Depression-era upbringing through the Marvel Age of Comics and beyond!  The film uncovers original transcripts, illustrations, photographs and stories of Lee's fascinating journey from his early years at Timely Comics and World War Two, the comic book industry's censorship battle of the 1950's led by Dr. Fredric Wertham, the dawn of Marvel Comics and the legendary characters Stan co-created, to his current company POW! Entertainment.  The film is told through the words of Stan himself as well as numerous interviews with comic book creators, actors, film producers, family and friends.  It paints a portrait of a man whose creativity knows no bounds and whose characters have grown from humble beginnings in the pages of Marvel Comics in the early 1960's to powerhouse properties in all media, including film television, video games and beyond.
Director Will Hess will be in attendance for a post-screening Q&A.
Screening is presented by the Awesome Fest and Cinedelphia.com.
9:00 pm : Drunk Monk, an0va, Chipocrite