FACEBOOK / TWITTER / YOUTUBE / INSTAGRAM
Housed in the historic Finney & Son building, a former showroom for tombstones and mausoleums that dates back to 1865, The Philadelphia Mausoleum of Contemporary Art (PhilaMOCA) is a multipurpose art space that proudly showcases the best in underground, alternative, and DIY culture with a concentration on film and performance.  PhilaMOCA hosts 250+ events a year ranging from film premieres to burlesque performances to fashion showcases.  The mission is to provide a creative and low cost outlet for the local community, as well as bring new and interesting art and performance to Philadelphia.
PhilaMOCA is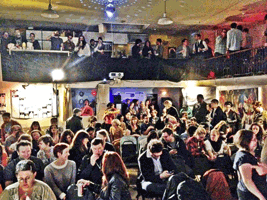 available for rental for the purposes of live performances, workshops, band practices, film screenings, and the like.  For further information contact Eric with full event details and requested dates.
PhilaMOCA / 531 N. 12th Street /
Philadelphia, PA 19123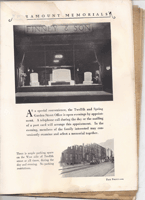 HISTORY (as we know it):
Finney & Son was a three-generation, Philadelphia-based tombstone and mausoleum business that was located at 531 N. 12th Street from the mid-1860s through the 1960s.  The building lay vacant until the 1980s when it was briefly inhabited by a sculptor from a local art college.  Local music producer/DJ Diplo purchased the building in the mid-00's and used it as the headquarters of his Mad Decent record label and the original home of the Mad Decent Block Party.  A Wikipedia summary of those years:
Since its inception, The Mausoleum has become the home to recordings by artists like Christina Aguilera, Shakira, M.I.A., Santigold, Spank Rock, Plastic Little, Blaqstarr, Paper Route Gangstaz, and hosted concerts by Glass Candy, Skream, Boys Noize, Nicos Gun, and more.
In 2010, Diplo relocated to the west coast and rented the building to Gavin Hecker who established PhilaMOCA in September of that year to rather immediate acclaim.  Gavin relocated to NYC in 2012 and current Director/Curator Eric Bresler took over the reigns of PhilaMOCA in March of that year.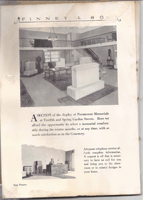 PhilaMOCA has received both national and international acclaim for its unique approach towards art curation.  Notable past events include ERASERHOOD FOREVER (a yearly celebration of David Lynch and his relationship with Philadelphia), the CINEDELPHIA FILM FESTIVAL (a 24-day, 40-film, all-Philly related film festival programmed by Eric), and the PhilaMOCA SPARKStacular (an art/music celebration of rock band Sparks).  PhilaMOCA was recently named Philadelphia Magazine's Best of Philly 2013 – Best Performance Venue.
Read the October 25, 2013 feature on PhilaMOCA in the Philadelphia Inquirer.
August 2014 Vice/Noisey piece on Philly music featuring PhilaMOCA:

2009 tour of the Mad Decent Mausoleum: